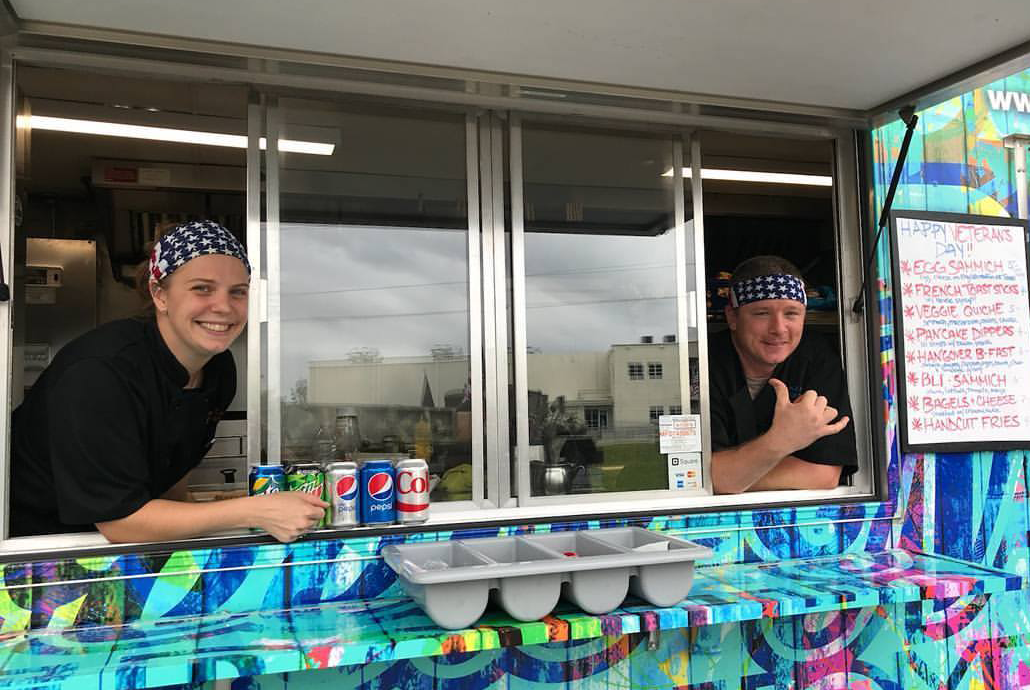 ---
Sweets-N-Eats is more than just a food truck. It is something that almost everyone strives for, the great American dream, to own a business and work for themselves. Sweets-N-Eats represents that and so much more. It was founded by husband and wife team, Nathan and Kristen Camburn.
Nathan started out by growing up in a small town in Southern Michigan. He loved making his own sauces and cooking for his friends and family. His passion started in the kitchen at his Moms café, creating unique culinary dishes
Kristen was baking at a young age at her family's small farm in Maryland. At 5 years old she was entering in the County and State fairs, bringing home Champion ribbons consistently every year. By the age of 18, she competed and achieved 1st Place in the state of Maryland for Baking and Pastry.
---
Both decided to start their journey in the food industry by attending Pennsylvania Culinary Institute in Pittsburgh, PA. This is where they met, fell in love, and finished their Associates degrees in Culinary and Pastry Arts. They decided to start their careers out west in Colorado where they both worked at highly acclaimed Restaurants and hotels.
Finally settling down in Central Florida, Kristen quit her job as a Pastry Chef to stay at home with her and Nathan's two Sous Chef's, Hunter and Ryder. (You can find them handing out samples or doing the dishes!) One loves to eat, and enjoys Mom and Dad's cooking very much. The other survives on chicken nuggets and cheese raviolis. (No Sauce!) While at home, Kristen started an at home Cake business. Here she created custom cakes of all sizes. From wedding cakes, to carved 3-D cakes to cupcakes. She does it all!
There was nothing more that they needed in life except for what they always had wanted. To own their own business in the food industry, and to finally be able to work for themselves. That was when Sweets-N-Eats was born. For years they saved, and planned their goal. Writing everything down in a book labeled "Making our dream into a reality"
They spent countless hours in what they like to call "Their happy place" (the kitchen) making menus, sauces, pickling, canning, baking, cooking, anything and everything, to finally create Sweets-N-Eats.
Sweets-N-Eats are a unique combination. There is something for everyone on our "Sweets" menu. From homemade muffins, scones and cinnamon rolls in the mornings to cheesecake, mini pies, and the best brownies you will ever have (so we have been told) anytime you want. No judgment zone here if you want cookies for breakfast. They have eggs in them right?
You can find creative one of a kind savory selections from our "Eats" menu also. Mornings can consist of "hangover breakfast" (a Sunday favorite at the Camburn's) or pancake dippers with the bacon on the inside, and a syrup that is like no other. Lunch and dinner can be tough choice with a Spicy chicken Panini, Blackened steak sandwich, Fish tacos on handmade tortilla, or an exotic Alligator Po Boy. All made from start to finish by Nathan and Kristen.
Sweets-N-Eats is the perfection combination! I was able to enjoy an amazing Spicy Chicken panini sandwhich. The red pepper pesto pairs well with the spiciness of the Chipotle chicken, and fresh mozzarella. A combination, like no other. After my sandwhich, I was needing something sweet. Lucky for me, they always have sweets available to satisfy even the biggest sweet tooth. I had a big fudge brownie that was so good, I claimed it to be the best brownie I have ever had. I can not wait to try something new on their menu next time!

My experience with the husband and wife duo of Sweets-n-Eats has been nothing short of fabulous. Nathan's sandwich concoctions are superb and you can tell he puts his whole heart into every sandwich he comes up with. Fresh ingredients and delicious combinations! His barbecue sauce is also to die for! Kristen's decorated cakes are among the most creative and unique that I have seen! They are the hit of any event! I have had many slices of her dreamsicle cake...it reminds me of the ice cream treat of my childhood. So yummy! Kristen's talent for desserts can been seen from her simple cookies to her crazy creations of delicious cheesecakes! The family owned business of Sweets-n-Eats is all about their customers and doing it homemade and it shows!

I cannot say enough wonderful things about Sweets-N-Eats.  This is our go-to for all our baked good needs.  From fun, colorful kids birthday cakes to elegant cheesecakes for a co-worker's retirement party, we have never been  disappointed.  They are gorgeous as well as delicious.  Kristen is very easy to work with.  She listens to what we need, offers suggestions if we're stumped and helps with the whole process.  We have never been disappointed and always get such wonderful compliments from our guests.  10/10, would absolutely recommend.

Sweets N Eats has been making our cakes, cupcakes and all desserts for the past three years. The experience of verbally telling Kristen what you would like or a theme you're interested and amazingly watch your thoughts come to life is a wonderful experience in itself. At every event including baby showers, child birthday parties and adult parties the cake or cupcakes are the most talked about. My family, extended family and friends have all been very delighted and thankful for the outstanding service and creativity with each cake or baked goods. With each homemade baked good and service to follow I highly recommend Sweets N Eats to all.